About Sands Realty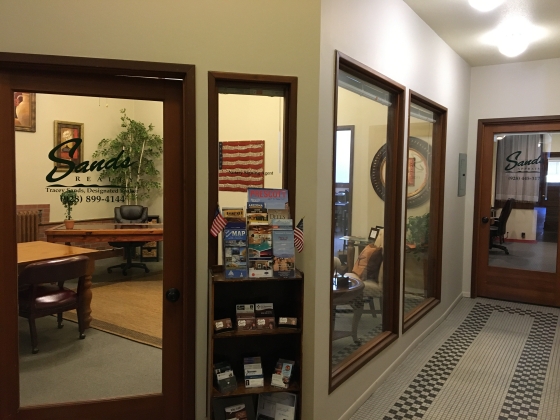 Sands Realty is located just off the Courthouse Square in downtown Prescott, Arizona. You can find our office in the old Historic Masonic Temple at 107 N Cortez Street, Suite 104. The Masons, a fraternal organization comprised of local business owners, lawyers, doctors and politicians purchased the 50 ft lot for $5000 and awarded the contract to a California Contractor who built the 4 story building for $38,042 in 1907. It was dedicated to the Masons in 1908. They utilized the building until 1979 when they decided to relocate due to their aging members who could no longer navigate the stairs. Along with the Masons, many other tenants occupied the building over the years including the Mountain States Telephone Co which occupied the building in 1912 and Florence Yount, one of the early female physicians in Prescott who delivered entire families in her well - baby clinic in the 30's. Stop by and we can walk with you around the Square and tell you about the historic buildings and their many stories!
At Sands Realty, we are a top notch group of professionals dedicated to serving you. When you are working with one of our agents you can be sure that you have the support of the entire office. Our agents are experts in sales, appraisal, accounting, interior design, staging, real estate education and more. Together we have a combined 80 years of real estate experience. Since we are a smaller brokerage, we are able to be flexible and to adapt to your needs. We do not have quotas so we are committed to great customer service and will always give you our best advice. Our focus is on your satisfaction, not building a big business.
As a smaller brokerage, our online marketing and MLS representation is equal to any larger brokerage. Your home will be marketed on both the Prescott and the Phoenix MLS which means it will syndicate to all the sites such as Zillow, Realtor.com, Trulia, Tour Factory and many more.
If you are thinking of selling your home or purchasing a new home, we would appreciate the opportunity to let you know why we would be a good choice to represent you in your very important transaction. We hope to see you!